"stahp sleeping kid, you've slept for 10 years."
If I told Min and Ying few years down the road, "I'll meet you guys at the same cafe at Edae, same booth.." I'm pretty sure we will all gather back at the same place. Cafe Noriter is definitely the best place to hang out with your friends at around the Edae area be it after school, after work, or after a long day of shopping.
Twice I went back, I had their Ice Lemon Peach tea which was a good refresher and thirst quencher on a sunny day, especially when you have went too long without water. Other than that,
please do not order any Lattes when you go to Korea
as THEY TASTE HORRIBLE. Like no matter where you go, the lattes are horrible. Even though the Goguma Latte (sweet potato) at Cafe Noriter goes really well with oreo biscuits, still it tastes horrible on its own.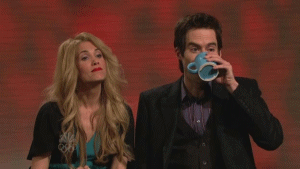 I mean, if you still want to try their lattes, you can go ahead..... I guess? :X
What made me fall in love with Cafe Noriter was not the cute barista at the counter, but the adorable little booths separated by a block of wood. They have different designs for each booth, and there's even one where it is housed in a treehouse setting. Super cute.
Please note that it would be good if you visited Cafe Noriter with shoes that are easy to take off as they do not allow shoes in the fully carpeted booths. For girls who are wearing short skirts or dresses, no worries, they have fur towels(?)/rugs(?) for you to lay over your skirt when you sit down.
I honestly wished there were cafes of such concepts in Singapore though.... sigh. I'll be back to try some of their desserts and this shall be my top hangout place in Seoul from now on. :)
Cafe Noriter
Ewha Women's University Exit 1
Walk straight down and turn right on the first turning when you see a huge MISSHA store.
Keep walking straight down and Cafe Noriter will be on your left. (it is on the second level)